Two people were wounded in a shooting Saturday in Jerusalem.
Saturday's shooting comes less than 24 hours after seven people were shot dead in a synagogue on Jerusalem's outskirts by a Palestinian gunman. Ten people were wounded in the shooting Friday before police arrived and killed the gunman.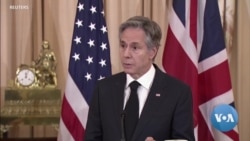 Embed share Blinken Flies to Mideast Amid Worst Israeli-Palestinian Violence in Decades Embed share The code has been copied to your clipboard. width px height px
No media source currently available
The Associated Press reports that the shooter in Saturday's attack was shot by the police, but his condition was not immediately clear.
On Thursday, an Israeli military raid on a refugee camp in Jenin killed nine people, one of the bloodiest days in the West Bank in years.
Officials are concerned the attacks may be the beginning of an uptick in attacks in Israel and the occupied West Bank.
Some information for this report came from The Associated Press.